I decided to start highlighting the book I am most looking forward to each week. It's a way for me to find out what's releasing each week as well as find out what everyone else wants to read each week.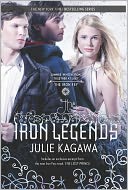 This

week my Most Anticipated Release of the Week is: The Iron Legends by Julie Kagawa. I love this series! I have read most of the novellas already but I'd like to get them in paperback and then of course there is Iron's Prophecy which I can't wait to read.
What is your Most Anticipated Release this week?